Hi Friends and Family!
We are thrilled to have you join us in Bari, Italy on August 30, 2022 for our celebration.
The ceremony will take place at the San Marco church in Bari  (Church of Saint Mark the Evangelis - Japigia neighborhood) Via Caldarola, 50 , Bari, Italy.
There are a lot of churches with the San Marco name, so check the address carefully.  The event will begin at 11:00 am, but you will want to arrive at 10:30. The ceremony will last about  about and hour, maybe less.
Dress is elegant.  The reception party immediately afterwards will be held at Villa Menelao about 26 minutes away by car. Lunch and Dinner will be served, so prepare for some amazing food! The party will last late into the evening.
 https://www.tenutamenelao.it/it/
Wedding Gifts. 

The tradition in Italy is different than the US.  Invited guests contribute in Euros toward the reception party as their gift to the bride and groom. The contribution is voluntary and is offered in an envelope in Euros at the wedding reception. 
Staying in Italy. 
Bari is a very busy city, with lots of congestion. We recommend staying in a smaller nearby town, such as Monopoli, or Polignano a Mare.
Conversano is nearby and a little bit less expensive. An inexpensive hotel is the Hotel Majesty which is 5 minutes away from the church by car.
Transportation
We recommend an Uber or a car rental to travel between the church and the venue.
After the wedding you might want to ditch the car and travel by train everywhere. Must see places are Lecce, about an hour south by train. There are also amazing seaside villages as you travel south. Alberobello is wonderful, but quite hilly. We rented Segways when we visited.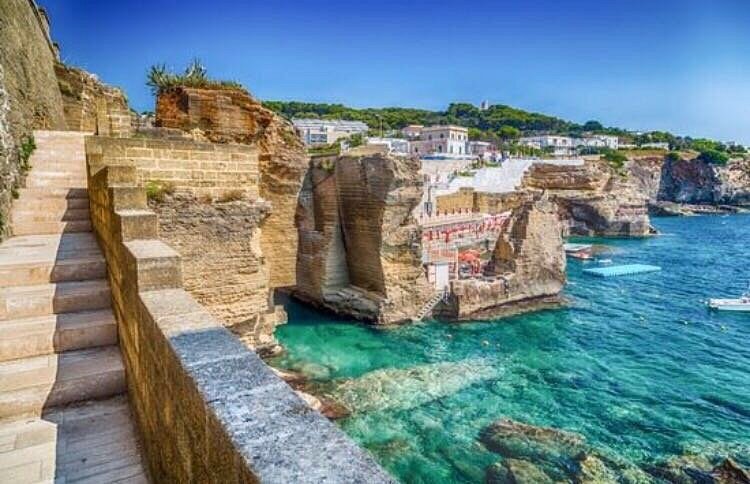 Santa Cesarea Terme, Lecce Province
Polignano a Mare, Bari Province